Crow Leasow
Why Come and Stay at Crow Leasow?
Relax – you're here! This is the well- kept secret area that is South Shropshire with our neighbouring Herefordshire and the Mid Wales border. Unspoilt, rural and beautiful. More than its fair share of castles and other Medieval buildings. It is an area of very low population. Traffic jams……what are they? – aside from a slight delay behind a tractor…
Crow Leasow is Sally and Robin's Quintessential English Country Home from Home. All the attributes of a smart little hotel but as a B&B it's more like staying with good friends in the country. Think 'slippers and wellies'. Feet up on one of the sofas in front of a wood burner or out in the gardens on a swing seat in the summer.
Three friendly dogs, Boot, Bob and Bert and Puss, the black cat. A cockerel and his hens clucking around supplying us with eggs for your breakfast. Sheep grazing peacefully on the surrounding ancient pastures.
Extra comfy beds, extra powerful showers and extra special breakfasts with an option to stay in for supper, complete with crystal, silver, fine china and candles!
Blessed with so much fabulous local produce, Sally finds it easy to serve up food that needs little embellishment! Think Herefordshire beef, Shropshire and Welsh lamb, rare breed pork and free ranging chicken. Eggs from our very free ranging hens, only locked away at night for their protection from Mr Fox. Although we are not near the sea, we do have good local stockists of fresh fish. Best organic sour doughs and other baking treat from local award winning makers. Local cheeses. Fruits, herbs and vegetables, if not home grown, then from someone we know. Home made cakes and scones from in and on the Aga in Sally's Jacobean farmhouse kitchen.
We don't use the term 'luxury' as we think that sounds a bit too formal for us. We prefer to be thought of as very comfy. Warm, relaxed and inviting, but with attention to detail. We are a bit battered in places, but the battered bits do get polished! Imperfect - perfection.
We sit on our own on the South Shropshire Hills an Area of Outstanding Natural Beauty. An ancient grade2* listed Jacobean ( circa 1620) and Georgian manor farm house with adjacent Victorian barns and The Crow Leasow Oak. He is over 1000 years old with a girth of 38 feet. One of the very oldest in the country. Sit under his ancient sweeping boughs and wonder at the tales he could tell….. Sally is busy researching the history and will happily regale you with her findings over tea and freshly baked scones upon your arrival!
We are set back 200 yards from a minor B road ( from which big lorries are prohibited due to its narrow and winding nature) running between the lovely little Shropshire towns of Ludlow and Bridgnorth. Crow Leasow has spectacular views from every single aspect. Hills, old pastures, deciduous woodland and forests. A little river just a 2 minute walk down the field. Our nights are very peaceful and very dark giving our guests the best chance of a very good nights' sleep and an opportunity to star gaze!
We have just 3 / 4 bedrooms – great for a group booking, safe in the knowledge the cooking is taken care of and someone else washes up! Or, as a couple or family, you will find like-minded fellow guests who have picked a B&B for its friendly and welcoming atmosphere. Our experience over the past 5 years has taught us new friendships are made and Sally knows this happens as she hears the laughter , which makes her feel very happy and the number of returning guests suggest we do our job pretty well!
We are dog friendly. Please discuss with Sally as we need to ensure the comfort and happiness all round as we have our own and neighbouring farmers livestock to take into consideration . Our guests dogs need to be as happy as we wish their humans to be!
We will be horse friendly when our stables in the Victorian barns are renovated. Space for the parking of trailers and lorries and off road riding is plentiful from our doorstep. Watch this space!
Sally is about to commence carriage driving instruction and when the stabling is ready, fully intends to have ponies and a trap for excursions around our quiet lanes.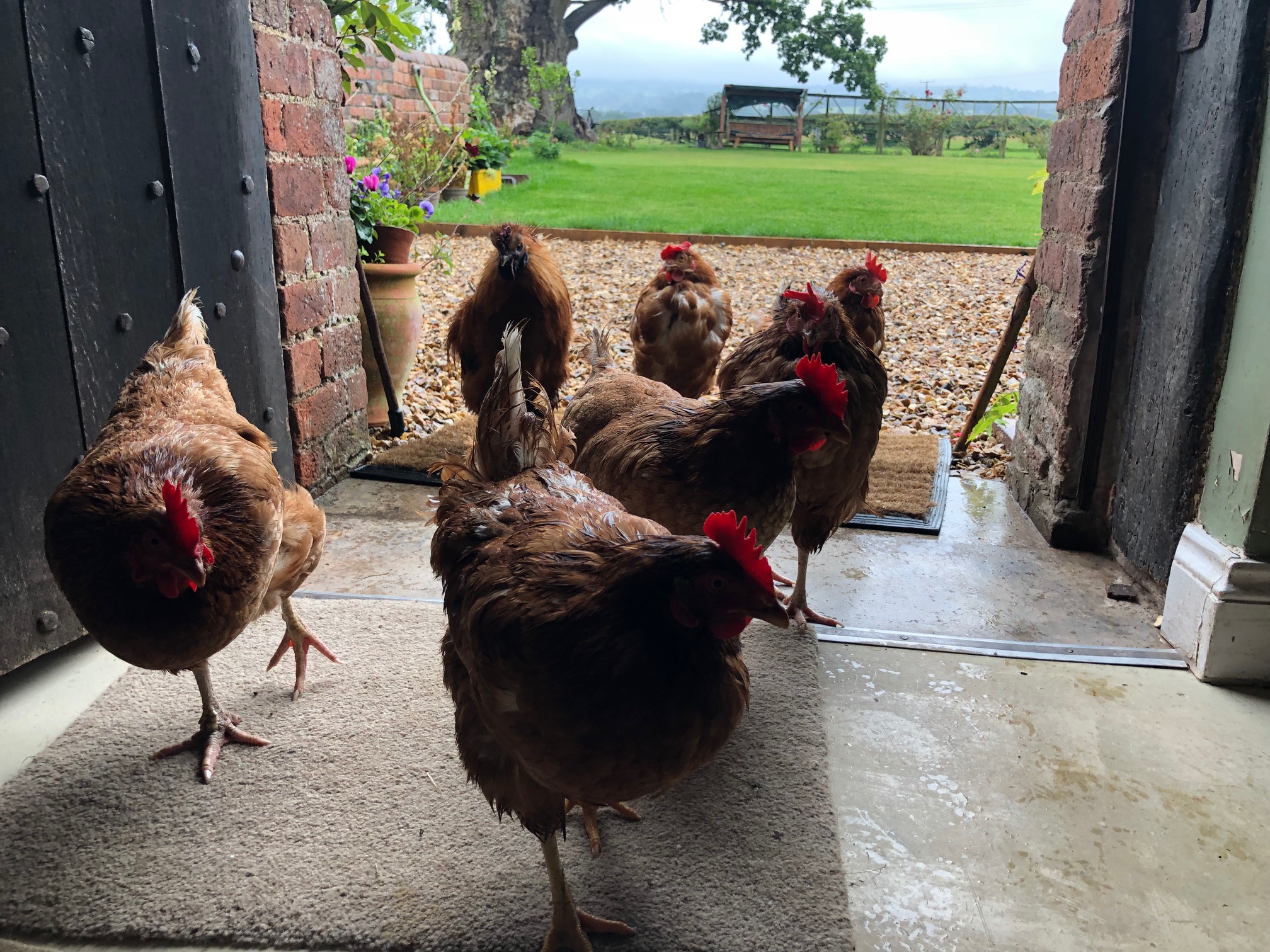 We have chosen to stick with the small niche guide – Alistair Sawday Special Places to Stay rather than the big American websites. Some may think this limiting, but we are happy we get a chance to match our facilities to our guests needs in a much more personal way. We love happy guests and we find the best way of ensuring happiness is a bit of a conversation matching expectations to reality!
If all this sounds like 'your cup of tea' read on and we hope you will then decide to come and stay and have a cup of tea and a freshly baked scone or two upon your arrival!